We recently flew on the Qantas A380 from Sydney to Los Angeles in Business Class after first visiting the Qantas Sydney International Business Class Lounge.
As a Business Class passenger, we were able to skip the long lines with Priority Immigration and Priority Boarding.
The A380 has First Class and Economy on the lower level and Qantas Business Class upstairs along with a small cabin of Premium Economy and Economy. Being in Business Class, we entered the A380 via the top level. Business Class is split into two cabins, a smaller one up front with 20 seats and a second cabin of 50 seats. I was seated in 20F, a middle seat in the second cabin.
The cabin is a 1-2-1 layout with all seats having direct aisle access and overhead storage on the sides and down the middle. All seats are facing forward but alternate in the location of the seat next to the aisle with the table on the left or the table next to the aisle with the seat on the left. There is no difference for couples when choosing middle seats as they are all separated by one table however there is a divider that can be lowered for those travelling together. There is a large space for legroom and a deep footwell for sleeping later in the flight.
Qantas A380 Business Class Cabin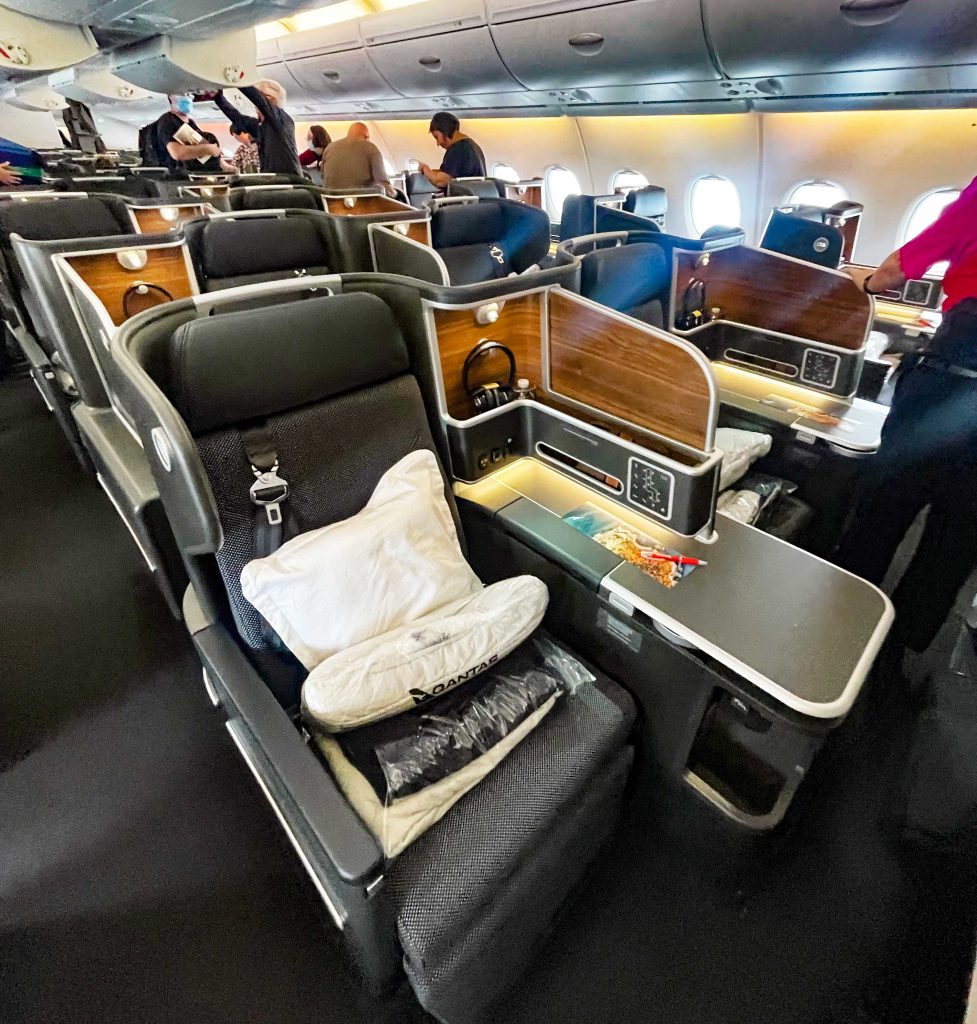 Qantas A380 Business Class Middle Seats
Qantas A380 Business Class Window Seats
Qantas A380 Business Class Leg Room
The seat itself has a hard shell that wraps around and gives a decent amount of privacy. Single seats beside the window (with the bench on the aisle) benefit from an additional side shelf under the window with extra storage. Seats with the bench next to the window can also access this extra storage but it's a little harder to reach.
One of the downsides of flying internationally with Qantas is they don't offer in-flight Wi-Fi. The airline has recently announced as part of a range of upgrades and to coincide with the launch of Project Sunrise, they will introduce free high-speed Wi-Fi on international flights from 2025.
On arrival a pillow, blanket and mattress protector were waiting on the seat. Next to the seat is a thin storage space to place magazines or any travel documents, along with headphones and a water bottle. On the front of this section is easily accessible charging ports and seat controls. There is additional storage on the back of the seat in front, perfect for magazines or a book, along with a coat hook and another small storage section down by the flood. Part of the table lifts up to reveal the TV remote and a mirror, while the dining table slides our from under the main table and swings around in front.
Qantas A380 Business Class Blanket, Mattress Protector & Pillow
Qantas A380 Business Class Storage
Qantas A380 Business Class TV Controller
Qantas A380 Business Class Charging Ports
Qantas A380 Business Class Headphones
Qantas A380 Business Class Seat Controls
Qantas A380 Business Class Breakfast Menu
Once seated, a welcome water, juice or champagne was offered, along with an offer for Qantas pajamas in medium, larger and extra large, which many passengers immediately change into.
Qantas A380 Business Class Welcome Drink
Qantas A380 Business Class Pyjamas
In the storage pocket behind the table was an amenities bag. Provided in a brown leather bag, it included socks, ear plugs, eye mask, dental kit and a hand cream kit.
Qantas A380 Business Class Amenity
The entertainment screen is a large 16 inch high definition with a fairly large selection of options, including a list of Marvel movies and the entire Harry Potter set. TV shows had more limited options but did include choices for kids shows, games and music.
Qantas A380 Business Class Entertainment Screen
Shortly after takeoff, a menu was handed out with the option to select a full meal straight after take off or a selection of dishes at your convenience throughout the flights. After take off and meal requests had been taken, another drink service was offered along with a serve of almonds.
Qantas A380 Business Class Tailored Menu
Qantas A380 Business Class Drink Menu
Qantas A380 Business Class Menu
Qantas A380 Business Class Drink and Nuts
To start I had the pan fried gnocchi with pancetta, peas and roasted cherry tomatoes, served on a linen table cloth and china plates. The meal itself was well cooked and quite nice however the bread and butter offered alongside the meal were a little chilled.
Qantas A380 Business Class Appetizer
The main meal was Jiangxi style Humpty Doo barramundi with seasonal greens, sesame seeds and jasmine rice. It did have a very strong flavour that may not be to everyones liking.
Qantas A380 Business Class Main Meal
Dessert was Maggie Beer ice cream. It was great to see a dessert from an Australian icon however, feel like a nice touch would be to serve it in a bowl, not a plastic tub.
Qantas A380 Business Class Dessert
After dinner I ventured to the A380 Lounge, located in front of the Business Class cabins on either side of the staircase. It features leather lounges and is designed as an area for small groups to convene during the fight. There are self serve snacks and drinks along with additional charging ports. If travelling with a partner or a group, this area is a great spot to find comfort out of your seat.
Qantas A380 Business Class Lounge
When it came time to get some sleep I used the controller to convert the seat into a fully flat bed and then changed into the pajamas provided. They were comfortable, however it was slightly difficult to change with limited space in the bathrooms.
Qantas A380 Business Class Flat Bed
Qantas A380 Business Class Footwell
After a decent sleep the attendants woke me for breakfast. If you prefer not to be disturbed if asleep, this can be arranged. I had chosen fruit salad with yoghurt, orange juice and a crumpet. There were also hot options available including eggs and bacon or grilled halloumi.
Qantas A380 Business Class Breakfast
Overall, Qantas' Business Class on board the A380 provided a comfortable journey. With additional features like the on board lounge with self serve snacks and drinks, it was easy to have a relaxing flight to our destination.
If you're looking to travel Business Class with Qantas on their A380, contact our airfare specialists at Flat Beds.