The AirLounge on board Finnair's A350 is a new and innovative seating concept unique to Finnair. We recently experience the AirLounge when flying from Helsinki to Singapore, after first visiting the Finnair Non-Schengen Business Class Lounge in Helsinki.
The contoured shell provides a cocoon shape to the seat, while also has a controversial design feature - It doesn't recline. We'll talk about this later in the article.
The cocoon shape gives a much wide seating space than a normal seat. The extra space was very noticeable and made for a more comfortable experience on a long flight. There is a full divider from the bench upward between middle seats that can be dropped for couples travelling together. The shape of the seat also means you can't see any part of other passengers when seated which is great for privacy.
The A350 has one cabin of Business Class seats in a 1-2-1 configuration and all seats have direct aisle access. Window seats were angled outwards to the window and middle seats inwards toward each other. I was seated in 3D, a middle seat toward the front of the cabin. One thing I noticed was there was no storage down the middle of the cabin. This gave a much more open feel which was a nice touch.
Finnair AirLounge
Finnair AirLounge
Finnair AirLounge
Although the seat doesn't recline, the design means you can curl up and lounge however you like, making for a very comfortable seat. The wider space also ensures amble room, providing a maximum amount of comfort. The cavity for the footwell is quite close which allows you easy access to rest your legs on even during take off and landing, without feeling like you're in an uncomfortable upright position.
Finnair AirLounge Footrest
Finnair AirLounge Leg Room with Footrest Raised
The bench to the right of the seat contains a wireless charging station. Many other airlines have storage under these benches meaning you need to frequently move items to access so not having any storage there is an added benefit. The tray table also slides out from under the bench with the click of a button along with controls for the footrest.
Finnair AirLounge Seat & Light Controls
There is a small storage space in the footwell along with storage to the right that is built into your seat. This is where you'll find a TV control and charging ports. You aren't able to leave devices charging in this area, but they can simply be placed on the above bench. A great feature is additional charging ports under the seats for larger items such as a laptop.
Finnair AirLounge Storage
Finnair AirLounge TV Control & Charging Points
On arrival, two small cushions were on the seat while a blanket, mattress cover and slippers were located in the deep foot cavity. The slippers were a nice touch as it meant I didn't need to pop on my shoes each time I got up from my seat. On the bench were noise cancelling headphones along with an amenity kit - a small pouch from Marimekko. An eye mask, ear plugs, lip care and facial cream were all included. Items were all great quality, however one suggestion would be to include a dental kit especially on longer flights.
Finnair AirLounge Amenity Kit
Before take off, I was offered a choice of Champagne or Finnair's signature blueberry juice, both of which were served in the iconic Litalla glassware. [
Finnair AirLounge Welcome Drink
The menu was also on the seat as I arrived and attendants soon came asking for selections and if you'd like to be woken for breakfast.
"
Finnair AirLounge Menu
Finnair AirLounge Beverage Menu
The TV screen was a large 18 inches which made for a great viewing experience. There was also a great selection of entertainment options for the long 13 hour flight.
The entertainment had options for 'onboard food and drinks', with information about the type of cuisine and service you'll receive throughout the flight. There was also in depth information on the onboard Wi-Fi service including a QR code that allowed you to access it easily. These small touches made the service feel very personalised and I found it to be very informative and helpful. The headphones provide were good quality and cancelled out a decent amount of noice throughout the flight.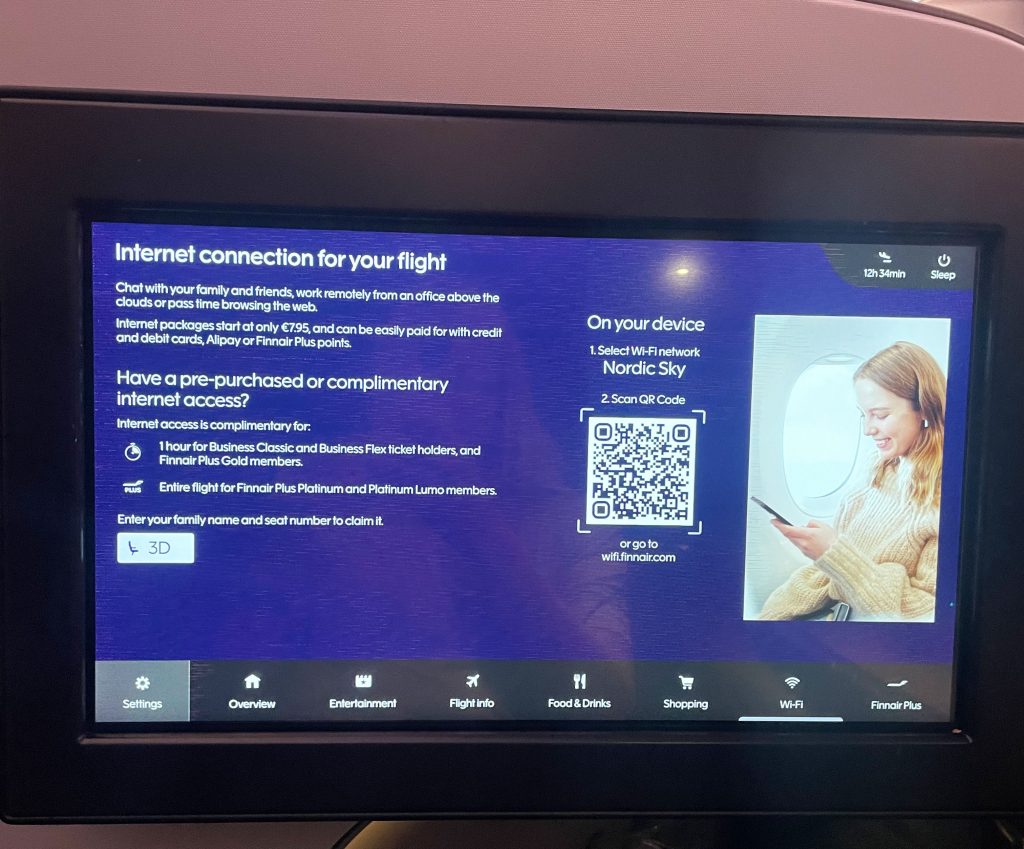 Finnair AirLounge Wi-Fi Information
Finnair AirLounge Dining Information
Soon after take off the attendants came around with a hot towel to freshen up, along with an offer for another drink and a serve of nuts.
When it came to meal time, we were given both options from the Cold Plates Menu and a choice of three meals from the Warm Plates Menu. These all came served together on one tray. I was served the Vasterbotten Cheese Mousse with Pickeled Kohlrabi and Seawood Caviar, the Salmon Sashimi with Apricot Miso and Picked Shimeji Mushrooms and finally the Braised Venison with Porcini Risotto, Root Vegetables Puree and a Port Wine Sauce.
The food was very high quality exceeded my expectations for airline food.
Finnair AirLounge Dinner
For dessert, the flight attendants brought around the desserts on a tray and allowed you to pick visually. This was a great touch and was much nicer than selecting from a menu. I selected the Opera Cake and was also provided with a selection of cheese at the same time.
Finnair AirLounge Dessert
When it came time to sleep, turning the seat into a fully flat bed was as simple as raising the footrest until it sat flat. This was done using the lever to lift up the small divider in front of the seat to bridge the gap. With the bed set up in this position you can lay down flat or remain sitting upright with your legs outstretched. There were a lot less moving parts setting this up compared to other flat beds, meaning it was faster and easier. I noticed a few passengers didn't lift up the divider so still had a small gap in their bed, however it didn't limit their ability to lay flat. The foot well provided good space while the middle of the bed is considerably wider giving you plenty of space to roll over and move about.
Finnair AirLounge Divider
]
Finnair AirLounge Footwell width="768"]
Finnair AirLounge Flat Bed
The two small cushions provided were nice to sleep on and allowed me to shift them around during the night.
There was no selection for breakfast but this wasn't an issue as due to the variety that was served. We all received Spinach Souffle with Pepper Sausage, Hash Browns, Cold Meat Cuts, Yoghurt and Fresh Fr
Finnair AirLounge Breakfast Fruits
Overall, the new AirLounge design was more versatile and comfortable than standard Business Class seats. There was more ability to lounge in different positions and the bed was wider - a great feature which made for a very comfortable sleep. We found the lack of reclining ability didn't reduce the comfort level of the seat, if anything, it was increased.
With Finnair's popularity growing and limited network with seat availability, we always recommend booking in advance to avoid missing out.
Contact an airfare specialist today to book your next Finnair Business Class RTW trip.