The new United Polaris lounge is Set to open at Newark Airport on June 4th! Newark, United's New York hub, will be the third Polaris lounge to open in United's network, following Chicago and San Francisco which opened earlier this year.
The Newark Polaris lounge will feature influences of New York including striking artwork from Brooklyn based artists.
The Polaris Lounge Entrance at New York's Newark Airport
In another nod to New York, the Cocktail Bar with an extensive cocktail List including the signature United Polaris Old fashioned will be the centre point of the lounge.
The cocktail bar is the centre of the New York Polaris Lounge
Dining will also be a main feature of the lounge, a full a la carte restaurant with table service will serve international comfort foods such as Moroccan braised lamb, mushroom risotto, and the signature United Polaris burger which will be available in all lounges.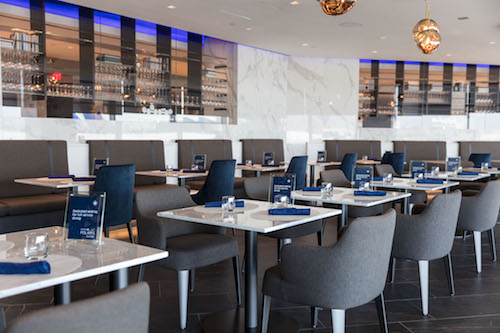 A la Carte dining in the Polaris Lounge
A la Carte dining in the Polaris Lounge
A bistro-like self serve buffet will also be available with sandwiches, wraps, charcuterie board, and a do-it-yourself bagel bar.
Bistro style dining in the Polaris Lounge.
Polaris Lounge Newark Features
455 seats
15 different types of seating
570 power outlets and 450 USB ports
4 private phone rooms
10 private daybeds outfitted with Saks Fifth Avenue bedding
10 luxurious shower suites, featuring rainfall showers and Soho House & Co's Cowshed Spa products
Personal valet services, including steaming garments
Lounge seating in the New York Polaris Lounge
Private lounge seating in the New York Polaris Lounge
Day Beds with Saks Fifth Avenue bedding at the Polaris Lounge
Polaris Shower Suites.
The United Polaris philosophy is to provide the best sleep in the sky with Saks Fifth Avenue luxury bedding onboard, and focussing their lounges on providing full dinner service, to avoid long meal services inflight.
Lounge Access
United Polaris First Class passengers travelling on long-haul international flights + 1 Guest
United Polaris Business Class passengers travelling on long-haul international flights
Star Alliance First Class passengers travelling on long-haul international flights + 1 Guest
Star Alliance Business Class passengers travelling on long-haul international flights